Scotland Travel Photography
Equipment  Guide

What to bring!
This guide will help you decide what's the best camera gear to travel with when you're photographing Scotland.
Whether you're interested in shooting the historical castles and cathedrals, street photography in one of major cities or small villages, landscapes in the majestic Scottish Highlands, the dazzling shores, or photographing wildlife, Scotland offers magnificent photo opportunities for all levels of photographers.
We're skipping the bulky and expensive "professional" cameras and lenses. You really don't need to spend between $2000-$5000 on camera gear to get great photos from your trip to Scotland. Jump ahead  to the top choices for best cameras/lenses for photographing Scotland.
Best Type Of Camera To Photograph Scotland
To capture the wide variety of photo ops in Scotland, you want a versatile camera that's compact to carry and easy to travel with. A mirrorless, interchangeable lens camera (MILC) with a  "crop sensor" is the best choice.  They're smaller and lighter. Battery life is much improved. All have great image quality. Lens choices are now plentiful.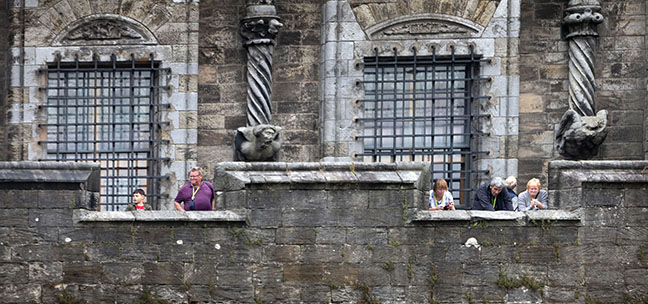 "Street Photography" in the Stirling Castle, Scotland


Your ideal Scotland travel camera should be easy to use and be capable of giving you the best image quality. It's also a good idea to stick with one of the top 4 brands of cameras. Canon, Nikon, Sony, and Fujifilm all had different starts in how they progressed with their digital and mirrorless camera lines, but competition has made them all good choices now.
CANON
The long time early leader in digital cameras. Canon fell behind in mirrorless camera technology advancements for a while, but has since caught up.
Their mirrorless cameras starting with 2022 are remarkably advanced.

NIKON
Nikon was known for their pro cameras and lenses for many years in the age of film photography.
They were late in coming on board to designing good digital cameras, and late to the mirrorless cameras as well.
SONY

Sony came out of nowhere to be the leader in image quality and mirrorless camera innovations.
The video capabilities were way ahead of Canon and Nikon, but now it's a 3-way race.

FUJIFILM
Fujifilm made their first digital camera in 1988. According to Wikipedia, Fujifilm was the most agile in turning to digital imaging.
Production of the mid-range type of mirrorless cameras that are good for travel photography came just recently.

List of Travel Cameras
All of my pick are qualified as great travel cameras under $1000, accept for the first one, The Canon R7. It's more of pro camera, but very reasonably priced for the amount of technology built-in........and this was my own personal choice for the camera I took with me when I traveled to Scotland.

1. Canon R7
I've been a Canon digital camera shooter for over 20 years, but I can't say that Canon has better travel cameras than Nikon or Sony or Fujifilm at this point. The top travel camera for Canon is the Canon EOS R7.
Edinburg Scotland castle guards
Canon R7 camera with RF-S 18-150mm Lens


STRENGTHS: Huge selection of RF and EF or EF-S (with an adapter) lenses, both used and new. Super fast and accurate focusing with advance focus tracking options. High sensor pixel count enables post-capture cropping without hurting image quality

WEAKNESSES: High-ish price tag. It is a pro-level camera, but priced at $1300 for the camera body at the time of this publication.

ALTERNATIVE: Consider the CANON R100. This is the perfect travel camera for beginners who want a brand new camera that's easy to use, is also one of the most affordable, AND gives you great image quality. To get this much technology in a compact size for well under $500 is quite an accomplishment by Canon.

Read reviews and check the current price on Amazon.
2. Nikon Z 30

Many photographers are fine with not having either an optical or electronic viewfinder-just like using a smartphone camera. I'm not one of them. If you're happy with using the LCD screen for composing and reviewing your photos, the Nikon Z 30 may be a really good choice for you.

STRENGTHS: Very Affordable, currently price at $650. Has a very compact 1.5X crop sensor camera body, making it easy to pack, carry, and travel with. Excellent image quality with 21 Megapixels. Unlimited length for recording 4K video up to 30p.  The Nikon Z30 has decent weather sealing.

WEAKNESSES: No viewfinder. No built-in flash. Icons, image data, and menus don't rotate when held vertically.
ALTERNATIVE:  Nikon Z fc.  Retro! This is a fascinating alternative to the traditional mirrorless camera for travel . This easily ranks #1 in fun. If I were a frequent Nikon shooter this would no doubt be my first choice. It's very enticing if you'd like to shoot with the nostalgic feel of using film camera dials.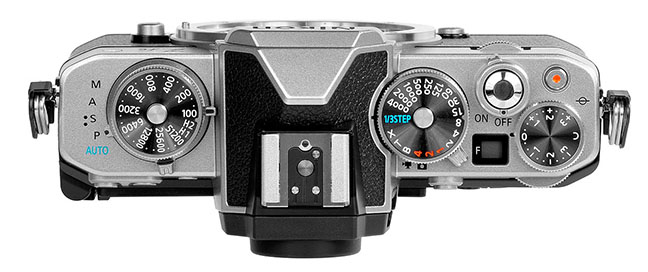 Nikon Z FC "Retro" alternative travel camera


"For old film camera photographers, the Nikon Z fc camera is a trip down memory lane, but outfitted with modern mirrorless digital photography technology."
The Nikon Z fc is the right size and weight for a travel camera. By the way, it also will give you great image quality from its 21 MP APS-C sized sensor.
Downside of Z fc is the higher-than-the-Z30 ($956) price tag, no AF/MF switch, no built-in flash, plastic exterior surfaces. Also, it's very different to hold this camera in your hands without the familiar grip that you're accustomed to using. An optional grip is available.

3. Sony ZV-E10

The Sony ZV-E10 is admittedly designed for vloggers.  I believe it could work very well as a travel camera that you could conveniently use when shooting travel photos. It really could be considered as an entry-level Mirrorless Interchangeable Lens Camera (MILC)

STRENGTHS: The ZV-E10 comes with a 12MP APS-C sensor and a fully articulating LCD touch screen

WEAKNESSES: Limited choices for a single all-purpose wide angle to telephoto zoom range.

ALTERNATIVE: Sony a6400is very compact, partially because it has no viewfinder. Excellent focusing for a beginners travel camera. It does have a built-in pop-up flash, but battery life is not a strong point.

4. FUJIFILM X-T30 II

For less than $900 you get another full-featured retro mirrorless camera that will give you excellent image quality from a small camera. Similar to the older X-S10, the Fujifilm X-T30 II is well equipped for travel photography. The 26 MB sensor is joined with a kick-ass focusing system to give you great image quality.


Fujifilm X-T30 II camera top


STRENGTHS: The Fujifilm X-T30 II comes with a 26 MP APS-C sensor and it weighs just 13.3 ounces. Outstanding image quality.

WEAKNESSES: Somewhat limited selection for a good travel lens. Small viewfinder. Battery life is somewhat weak, but it's easy enough to carry a spare.

ALTERNATIVE: Fujiflm X-T4.  A great camera, but several hundred dollars more expensive.
Best Lens For Photographing Scotland
You want to keep your bundle of gear as small as possible, so a versatile zoom lens is clearly the top way to go. Basic kit lenses with an 18-55mm zoom range come up short. Although they're compact, easy to carry along, and very affordable, you need more range, especially at the telephoto end of the zoom.
For my recent trip to Scotland I used my RF-S 18-150mm lens about 95% of the time and had an EF-S 10-18mm lens for those super wide landscape and architectural photographs.

Zooms that go from wide angle to telephoto are the most versatile and are the best choice if you're going to travel light with just one multi-purpose travel lens. Here's a list of the best lenses for travel photography in Scotland.
Canon EF-S 18-135mm (with adapter)
Canon RF-S 18-150mm 
Nikon NIKKOR Z DX 18-140mm
Tamron 18-400mm For Nikon
Sony E 10-18
Sony 16-50mm f/3.5-5.6  Alpha E-Mount
Fujifilm XF 18-55mm f/2.8-4
Fujifilm XF 16-80mm F/4
Once you've got your camera and lens picked out for your travels, you need to know what to look for and where to go in Scotland for the best photo opportunities. Watch this short video below.

Worthwhile video to watch
Camera Accessories For photographing Scotland

Along with your choice for camera and lens, there are a few small and affordable camera accessories to remember to take with you to Scotland.

BATTERY. 2nd battery, charger, and 220/110 converter.
MEMORY. 128 GB spare memory card.

TRIPOD. Only if you're taking any selfies, night time shots, time lapse photos, or shooting videos. Make sure it's a travel tripod and that it fits inside your suitcase.
GUIDE BOOK. Take along a good guide book. Although not specific to photographers, Rick Steve's team does a good job of writing and updating their guide books.

---
Scotland Travel Photos FAQ
According to Google, here are some of the frequently asked questions and answers related to travel photography in Scotland. Click on a question to see the answer.

You can get compact mirrorless cameras that yield excellent image quality for between $479 and $950.

The most well known spot for tourists to take photos is the iconic Edinburgh Castle in Edinburgh, Scotland. For landscape and nature photographers, the best place for photos is the Glencoe valley.
Generally, it is legal to take photographs and shoot video in public places in Scotland unless it's terrorist or criminal purposes. There are a few public places that require permission and some locations where photography is forbidden.
Scotland passed the Land Reform Act of 2003, referred to as a "free to roam" law, giving everyone rights to access land and inland water for recreational purposes, as long as they behave responsibly.

Additionally, property owners have no right to stop people taking photos of their buildings, so long as the photographer is standing in a public place.
There is no law preventing people from taking photographs in public. This includes taking photos of other people's children. If you are taking photographs from private land, you need to have the land owner's permission.
---
---
Scotland Photo Gallery
The collection of images from my brief visit to Scotland is a good sampling of the photo opportunities you'll be presented with when you visit. Click on any one of the travel photos in the Scotland gallery below to enlarge it in a slide show.

---
---
As an Amazon affiliate The Traveling Photographer receives a small commission from qualifying purchases, at NO added cost to you.
---
---
Summary
Scotland is a pretty country and presents many varied opportunities for creating some great images. Mid-range mirrorless cameras are the best type of camera to use when traveling in Scotland, the United Kingdom, and through Europe for that matter. Pair a MILC, Mirrorless Interchangeable Lens Camera, with a general purpose zoom lens and a few small accessories and you've got the right equipment for great ravel photos of Scotland.

Bruce Lovelace is the publisher of TravelingPhotographer.com. Bruce shot portraits full time for over 35 years. Now he shoots more travel photography.  Read more about him on the About Page. He also publishes how to articles and camera gear reviews at the  Photography Tips and Canon Geek websites.
---
Return To ALL Travel Photography
                   TRAVEL PHOTOGRAPHY TIPS FOR SCOTLAND
---