Jenny Jump Photos
PUBLISHED ON:  December, 2023

Nestled between Route 46 and Interstate Highway 80 in Northwestern New Jersey, Jenny Jump State Park gives you plenty of opportunities for taking some great photos. Whether you're hiking Jenny Jump Mountain, or taking one of the trails from Jenny Jump Campground, or just looking to see some landscape photography of the area, you've come to the right place.
Go ahead. Join me in enjoying the photography. Have a little patience for this page to load. These are large photos and a video. The photo below is of Ghost Lake. Taken in late October, the predominantly yellow Fall colors were bursting throughout the area.

Ghost Lake, in the northern part of Jenny Jump State Forest, is also referred to as Haunted Hallow. Two wealthy men made this area into a man-made lake by constructing a dam. The name Ghost Lake comes from the eerie-looking misty vapors that often appear on cold mornings.
You can take Jenny Jump photos like this too. All you have to do is show up and find the right vantage point. If you're going to include the sky in your composition, it makes a better photo to have a blue sky rather than a white sky included.

I tried quite a few variations of shooting straight upwards, using different angles, different zoom settings, and different groups of trees. This one above was one of my favorites.
Camera Equipment For Jenny Jump Photos

Coming from a background as a pro portrait shooter, I have a variety of cameras and lenses that I use for shooting my nature photos. See my post on choosing the Best Nature Photography Equipment. The truth is, you can get great photos by using your smart phone too!
Most of the photos during my travels to Jenny Jump State Park were taken with a full-frame mirrorless camera, a Canon R6 Mark II for the best image quality.  My secondary camera was a smaller sensor Canon 90D with an 18-135mm zoom lens for versatility.
The 90D with the 18-135mm lens was perfect for zooming in on subjects like the maple leaves below.

Don;t limit yourself to the framing that your camera or smartphone gives you. Some subjects, like the leaves above, looked much better after I cropped it to a square format.

The map of New Jersey shows you that Jenny Jump Mountain is far away from all of the steel, concrete, traffic congestion, and overcrowding of the New York City area.

Jenny Jump State Park is only 25 minutes from the Delaware Water Gap and less than drive from another photography hotspot in New Jersey, High Point State Park.
The rolling hills and small mountains make this area a great location for shooting scenic views as well as close-up photos. Fortunately, the Praying Mantis below was in no hurry to escape from my threatening lens at such a close proximity.

Just outside the cave (the photo of the Fairy Hole cave is farther below) at Ghost Lake, one of the fellow hikers spotted this Praying Mantis enjoying the warm afternoon sunshine. I felt compelled to shoot his portrait.
The image below was taken from the road to my campsite (# 16), within the campground, using a tripod and my camera's self-timer function. Just out of frame is the Delaware Water Gap.

My version of a selfie portrait at Jenny Jump Campground


I geek out on nature when I see scenic views like this. The colorful treetop leaves combined with the naked trees form what I refer to as a tapestry.
In the photo below I noticed this larger greenwood fern pointing toward an already transformed smaller different variety of fern.

I also thought the color contrast of the fallen brown leaves made for a nice background for the main subject.
The Fairy Hole cave shown below was used by Lenape Native Americans for shelter. It has an accommodating flat floor with the size of the cave being about 10 feet wide and 15 feet deep, and just tall enough to stand upright in for average height people.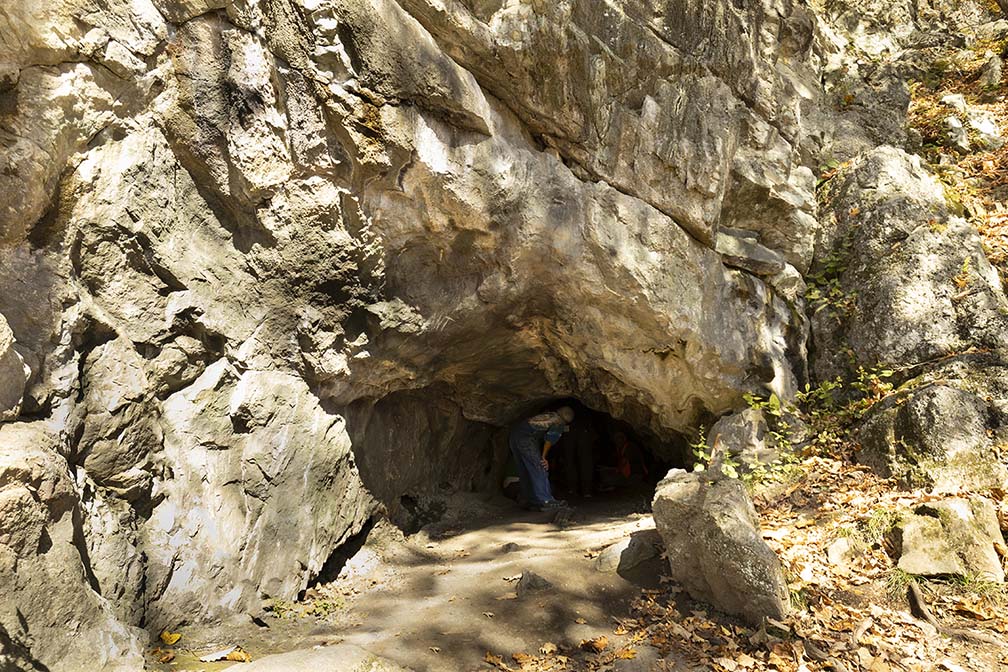 Fairy Hole Cave at Ghost Lake


If you venture inside the Fairy Hole cave you'll notice very small stalactite formations on the ceiling that have been forming since the last Ice Age.
Along the Summit Trail in Jenny Jump State Park, you'll get a few scenic views worth photographing like the one below. If you walk the trails to the top of Jenny Jump Mountain,  you'll be greeted by rocky outcroppings and lots of rolling terrain.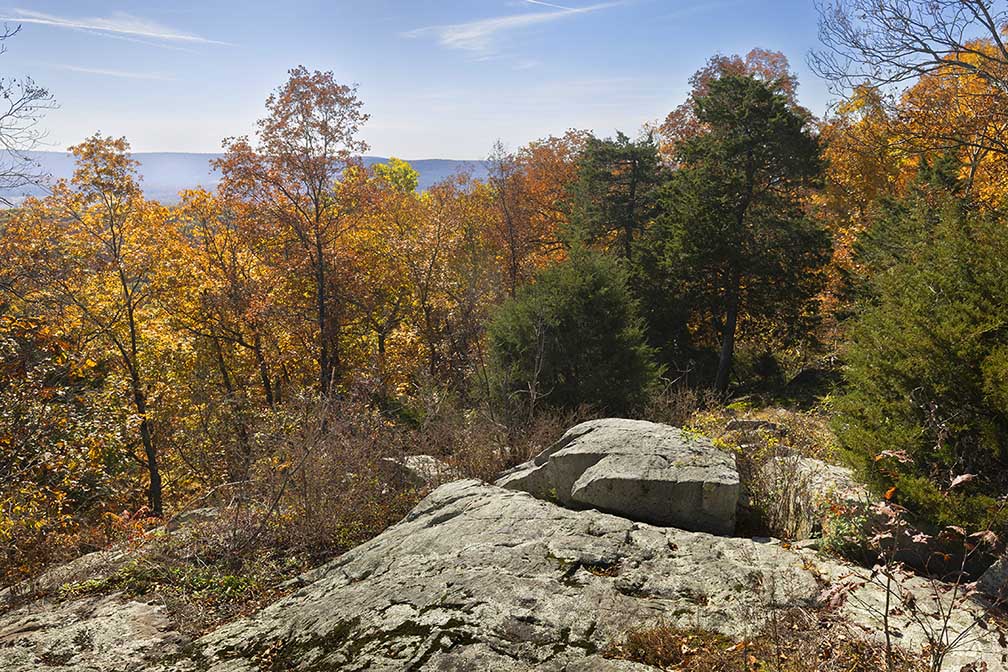 "Jenny Jump Rocks!
I composed the photo of the rocks, yellow trees and blue sky by visually dividing the frame into three, somewhat equal areas.

You'll come across rock ledges and large boulders as you hike on many of the trails throughout the park. It's fascinated to think that 20,000 years ago this was all covered by a super thick glacier, thousands of feet deep.
Video of Jenny Jump Photos
Get a sense of what it was like to be there with this short video of the still photos I took. Enjoy!
Video of Jenny Jump Photos
---
Even the signs are nice to photograph


In this photo of the sign, I positioned myself down low to have the colorful trees frame in the sign as the main subject of the photo.
I hope you enjoyed my little photographic journey in the beautiful Jenny Jump State Park. I only had 1 day to visit and photograph it, but I know I'll be back.
It's my desire to inspire you to travel to this spot and take your own photos and feel the same gratitude that I do. Hopefully, you'll  get to enjoy this area in Warren County, New Jersey, and other locations like it.
Enjoy my other Travel Locations too!

Bruce Lovelace is the publisher of TravelingPhotographer.com. Bruce shot portraits full time for over 35 years. Now he shoots more travel photography.  Read more about him on the About Page. He also publishes how to articles and camera gear reviews at the  Photography Tips and Canon Geek websites.
The Traveling Photographer Location on Google My Business

---
---
---