Sedona Red Rock Photos
Welcome to my Sedona photo gallery. I compiled these high resolution Sedona Red Rocks photos for you to enjoy and even copy if you want to. See the popular named red rock formations and enjoy the not-so-famous rock formations that also make for great photos.

We only had two days to explore and photograph this amazing place. We combined a self-guided drive with hiking, and added a professionally guided tour in a jeep to get to more remote.

Photographing the named Sedona rock formations is one of the most popular activities both tourist and landscape photographers do when visiting Sedona, Arizona.
Before we dive into the specific popular red rock formations to photograph, you need to know how to get the best images before you get there.

How To Photograph Sedona
To get great shots of Sedona, you need to get the "3 Ls" right. You need to find the exact location, shoot when the lighting is best, and pick the right lens to attach to your camera.
1. LOCATION

While it's true you can just follow all of the other tourists to the many rock formations with names, it's important to find the best specific location to portray those rocks in an interesting way. That means trying a few different perspectives. Get down low. Get higher by climbing up a few rocks. Take a path to the left. Move closer.
You get the idea. Shoot several different variations. See the angles I shot from in the photos of Cathedral Rock, The Chapel of The Holy Cross, and the other rock formations.
2. LIGHTING
The textures and details of the red rocks come out better when the light is coming from at least somewhat of an angle. Generally speaking, it's not a good idea to photograph the Sedona rock formations if the sun is behind them.
The photo below of "View from Schnebly Hill Road" in Sedona is a good example of lighting that brings out the surface details of the red rock.

The lighting from the side of the formation makes the landscape appear almost three dimensional. The other element that's working in our favor is the presence of clouds contrasting against the blue sky.
3. LENS SELECTION

It's a frequently asked question. " What's the best lens to use to photograph the red rocks of Sedona?" If you are only going to have one single lens, it should be a wide angle to telephoto zoom lens

Although a "normal" focal length lens will suffice for some of the photos you take in Sedona, you'll be much better prepared if your lens selection (even if it's an all-purpose zoom) includes wide angle and telephoto  focal lengths too.
Wide angle lenses are great in two situations. First, when you're in close to a rock formation, you want to create a strong perspective view of your subject that emphasizes objects in the foreground.
Secondly, a wide angle lens will enable you to get a wide scenic view  of your subject, especially the larger rock formations.
Normal lens for photographing Sedona. Also referred to as a standard lens, it's good as a general purpose lens to use that gives you a similar perspective as you get with your naked eye, in other words no magnification or reduction. Normal lenses range in the 40mm to 60mm focal length for full-sized senor cameras and range from about 25mm to 40mm for the smaller "crop" sensor cameras.

Telephoto focal length lenses are good for getting closer views and detail shots where you physically can't get close to photograph distant subjects. The longer (stronger) the lens the more it visually "flattens" the subject.

Table Of Suggested Lens Focal Lengths For Photographing Sedona

Here's a list of lenses and their potential applications for getting goods photos while you're traveling around the Sedona, Arizona, as well as other landscape photography locations.

| | | | |
| --- | --- | --- | --- |
| FOCAL LENGTH | FULL FRAME CAMERA | CROP FRAME CAMERA | GOOD FOR |
| WIDE | 24-40mm | 16-30mm | Wide enough for most landscape photos. |
| "NORMAL" | 40-60mm | 28-50mm | Gives you the standard view, similar perspective as the naked eye. |
| TELEPHOTO | 70mm and longer | 50mm and longer | Great for moderately distant shots of red rock formations and detail photography. |
| SUPER TELEPHOTO | 400mm and longer | 300mm and longer | Good for Sedona wildlife photography, far distance red rocks and shallow depth of field artistic photographs. |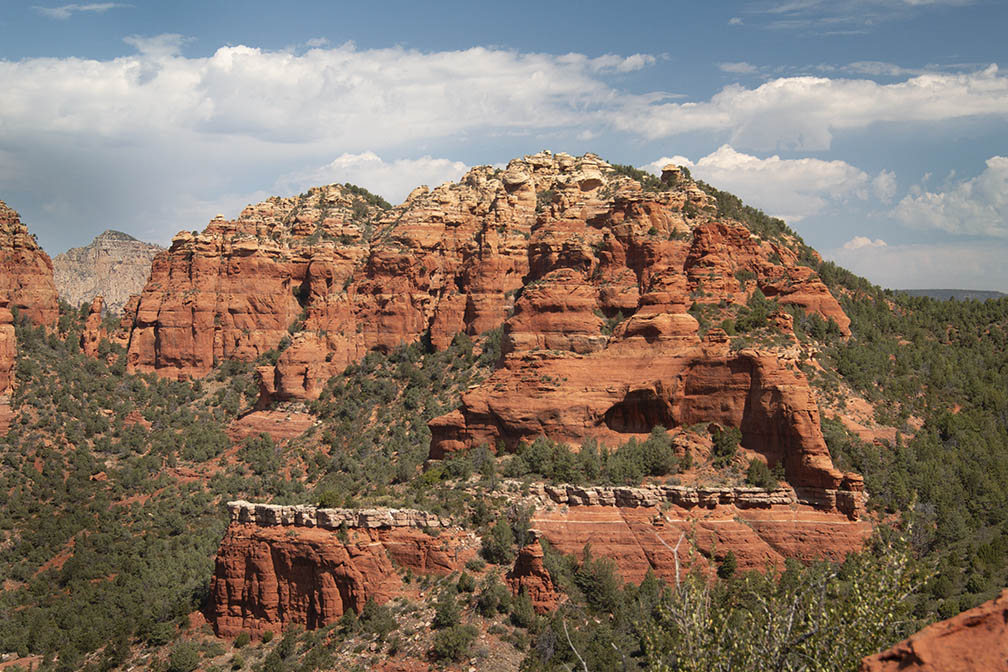 "Normal" perspective photo taken with 17-35mm wide angle lens
zoomed to 35mm on crop sensor (Canon 70D) camera.


The lens recommendations above are just that, recommendations. Your shooting style will be unique, but the list of potential lenses to use is good to use as a starting point. now, about the questions of popularity.
At the very beginning of my transition from film cameras to digital cameras, I only had one lens to use for my landscape photography. I had a 28-75mm lens mounted onto a APS-C crop Canon 10D.  Fortunately, I managed to get some great photos of Zion National Park, although I was significantly limited with shooting wide angle photos.
Most Photographed Rock in Sedona
You're likely wondering what is the most photographed rock in Sedona.
Although there is no practical scientific way to measure the most named photographed rock formation in Sedona, there is strong evidence that Cathedral Rock is number one. Perhaps it's due to the height, breadth, and separation between the of the different columns of red colored rock.

Cathedral Rock near Red Rock Crossing - Sedona, Arizona
The lighting was flat, but I liked the composition


Included on the list of recommended photo hot spots to photograph Cathedral Rock is Red Rock Crossing. I chose a spot slightly downstream of the normal shot that includes a few river rocks in the foreground.

This is one of the classic shots to get when you're visiting Sedona. When I was there and photographing this view of Cathedral Rock the sun was not striking the rock, but I took this photo using the vegetation as a framing device in the composition.

Bell Rock is also a strong contender for the most photographed rock formation in Sedona. It's very easy to get to, being just a stone's throw off rt. 179.

Another great location for travel photos or rock formations in Arizona is to photograph the Grand Canyon. If you're visiting Sedona, you;re less than a few hours from the incredible rock formations in the  Grand Canyon. Be sure to enjoy my gallery of photos I was able to take during my hike into the Grand Canyon.
Also on the list of places to photography the red rocks of Sedona is the Chapel of the Holy Cross.

Many of the photographs of the Chapel of the Holy Cross are taken from directly below. I preferred this view from an angle. Agreed that the photos from below show of the large cross, but I wanted to emphasize the unique shape of the chapel and include the contrast between its smooth sides and the naturally-formed rough texture of the rocks.
Choosing a low angle also gives you the benefit of getting a rich blue sky for a background. This angle also places the chapel in a position that protrudes above rock, making it more prominent in the composition. Not only is the chapel a great photo op, but the view of the valley from the chapel itself is breathtaking.

In addition to the popular spots I always try to look for unique angles and get a few interesting photos of UN-named rock formations like the one below. I gave it a simple title, "Sedona Red Rocks and Cactus," because, in my eyes, it captures the charm of this area of our amazing country.

When I image traveling in the desert regions of the southwest I pictured cactus. No photo excursion is complete without getting at least one photo of a cactus plant. In this case, there were several cactus plants scattered around, making a perfect foreground for the composition above.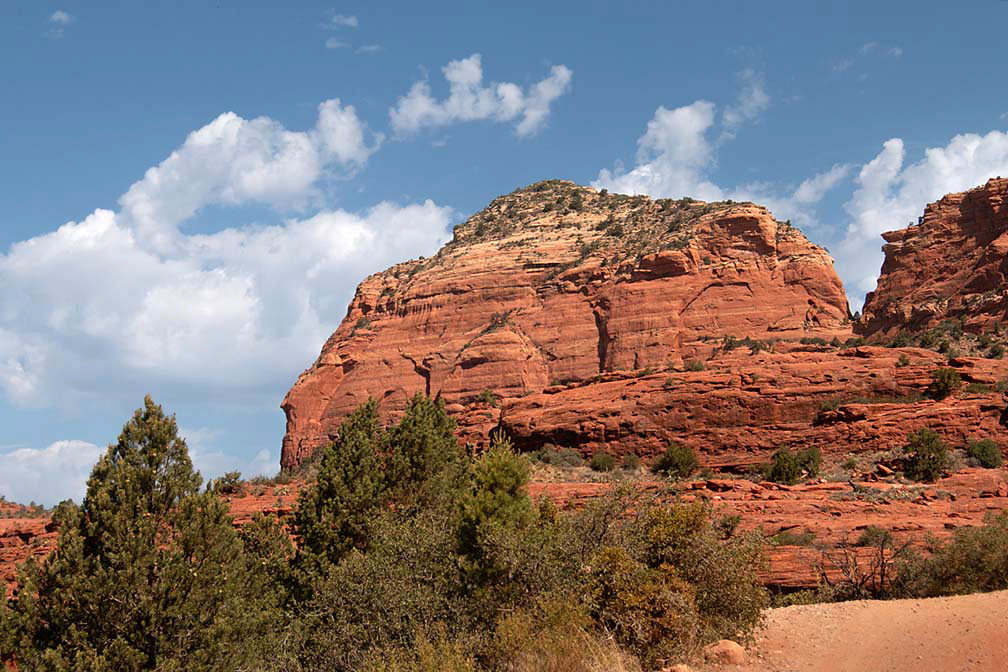 Sedona Red Rocks And Clouds


Massive red rock structures like the one above make great subjects are are fun to photograph. There are dozens of famously named formations, but here are 15 Sedona photo spots worth visting:

LIST of Sedona Rock Formations To Photograph
Snoopy Rock (Saddle Back)

---
---
Equipment Used For Photographing Sedona, Arizona
You may be wondering what camera and lens works well for photographing the red rocks of Sedona. For this photography excursion I kept it simple. I needed easy to travel with, capable of high image quality, and have RAW mode versatility.

Canon 70D. I didn't want to lug around my full frame 5D. The 70D is a APS-C "crop" frame camera and is smaller and lighter. Since then, I upgraded to a newer Canon 90D DSLR and several lenses for my travel photography

Canon G1X Mark II. An advanced point-n-shoot camera that fit in my cargo shorts. The G1X Mark II was built with a large 1 inch sensor for excellent image quality for this type of camera and also can shoot in RAW mode.
Tamron SP AF 17-35mm f/2.8-4 Lens. I wanted the versatility of a wide angle zoom that would give me ability to shoot wide views of the large rock formations when mounted to a crop sensor camera, like my 70D.
Rocketfish Travel Tripod. Sturdy enough to hold my camera, but small enough to fit in my suitcase and mount to my camera bag during hikes along some of the trails in Sedona.
I hope you enjoyed your trip to Arizona, Sedona, through my article and this mini gallery of photographs. The unique geology gives you, me, and countless other photographers the opportunity to make some great images.
Bruce Lovelace is the publisher of TravelingPhotographer.com. Bruce shot portraits full time for over 35 years. Now he shoots more travel photography.  Read more about him on the About Page. He also publishes how to articles and camera gear reviews at the  Photography Tips and Canon Geek websites.
---
Return to All Travel Photography

---