Yellowstone photography tips
for beginner DSLR and Mirrorless camera photographers

It's a photographers paradise, no doubt, but how do you photograph Yellowstone National Park if you're new to DSLR or mirrorless cameras. There's more to getting great travel photos than just taking a point-and-shoot approach.
As you'll see in this gallery of Yellowstone photos, I was a beginning DSLR shooter in 2004 when I took my first photo excursion, this one to Yellowstone National Park.

All of these photos were taken with my first interchangeable lens digital camera, a Canon 10D. Nowadays a 6 megapixel camera sounds dreadfully inadequate. The images were very lackluster in color and saturation, and many were over-exposed and unusable. 
How do you photograph Yellowstone

Every photo in this post on the photography opportunities at Yellowstone was taken with that beginners DSLR back in 2004.  Fortunately, thanks to Adobe Lightroom and Photoshop, I was able to edit enough of them into better images almost 20 years later.Fortunately, I was able to do the same thing when I photographed Badlands National Park.

Using a recently released camera will give you the best image quality because of the advanced technology in exposure control, focusing ability, detail and color reproduction, and image processing built into your camera.

Here are the 5 steps to take to get great photos of Yellowstone.

1. Know Your Camera
I know it can be intimidating to dive into the sophisticated settings that cameras have, but you really don't want to get to Yellowstone and not know how to use your camera. There are 3 things you can do to familiarize yourself with your specific camera BEFORE you travel. 
Browse through your camera manual, whether it's online or you have a printed version. It's not exciting, but it will surely help you get more out of your camera.

Search and watch videos on YouTube specifically for your camera make and model. Videos like this are extremely valuable to watch. You just have to be a little persistent to find the right one.
Experiment. Adjust various camera and lens settings (one at a time) while taking "practice" photos and look at the results on your computer. The best way to learn is by doing, not just watching or reading.
2. Composition
Include People in Your Travel Photos


It takes time to learn good composition technique. It's always a good idea to try a few different compositions, changing your vantage point, zoom setting, and angle of each subject you photograph.
I've been shooting photos for over 50 years and am still learning. See the composition tips on my general photography tips website.
In this photo of the boardwalk at Minerva Terraces at Mammoth Hot Springs, I included people in the composition to add interest.
I chose a vertical orientation because it fit the scene in front of me better.
I picked a camera location that gave me an arrangement that included objects up close and distant to give the image depth.
I zoomed out to a moderate wide angle focal length to include the right amount of background, including the sky in the top of the frame.
---
3. Focal Length
How you use the focal length setting on your lens will have a huge impact on how your photos come out. It's not just about getting wide scenic views with a wide angle setting or getting close-up shots with your telephoto focal length.
Using different focal lengths changes the relationship between objects within your camera frame. Learn the how wide angle focal lengths dramatize perspective and how telephoto focal lengths flatten the perspective.  Here's a helpful chapter on perspective from my Digital Photography Tips eBook.
4. Exposure Compensation
Your camera is very adept at getting  the right exposure, but tricky lighting situations and unique subjects can fool your camera's exposure. Modern cameras come with an "Exposure Compensation" setting that lets you add or subtract exposure to what the camera originally determined to be the right settings.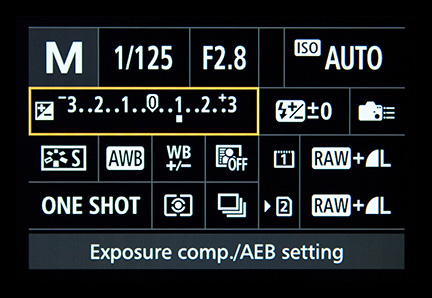 Exposure Compensation Setting


Quite a few of my Yellowstone photos were over-exposed so badly that I couldn't fix them with software. That's because I didn't understand why shooting in RAW mode is so much better and it was before I learned how to use exposure compensation .Additionally, learning how to look at a histogram has been the most useful tool I've learned to use with all of my photography.
5. Timing
You've heard the expression, "Timing is Everything".  Well, I'd have to agree that timing is very important with landscape and wildlife photography. It can be the difference between a good photograph and a great photograph. Generally speaking, dawn and dusk are the best time to photograph the wildlife at Yellowstone because they are more active at the beginning of the day and the end of the day. 
Fro landscape photos the best time can vary more based on the subject. In the photo above the direction of the light was good for revealing the shapes and textures of the eroding rock at Minerva Terraces.
Yellowstone lighting can be the most dramatic, especially for landscape photography, just before and after both sunrise and sunset. It's an opportunity I had to miss because of my packed schedule during the fast, whirlwind tour of the Dakotas, Wyoming, Utah, and Arizona.
Yellowstone/Camera/Lens/FAQ

To get the best pictures while you travel around Yellowstone, use an advanced point-n-shoot, DSLR, or mirrorless camera that was made in the last three years. Your travel camera should have a wide angle to telephoto zoom lens or have interchangeable lenses to accommodate all of the different scenes and wildlife you'll encounter in Yellowstone National Park.

In order to get the best photos of wildlife in Yosemite National Park, you need a lens with a long focal length. For advanced point and shoot camera with smaller sensors, you want at least a 150 mm telephoto focal length.

For APS-C sized cameras use a lens with a range of 200-400mm, and for full-frame cameras a maximum 400mm focal length or longer lens is best. The best lenses for photographing wildlife have large maximum apertures like f/4, f/2.8, or f/2 because you can shoot under dim lighting conditions with faster shutter speeds to freeze the action.

If you only are going to use just one lens for photography when you visit Yellowstone, the best focal length lens should include a wide-angle to telephoto range of focal lengths. Full frame cameras should zoom from 24-105mm or 28-200mm.

Crop sensor cameras should zoom from 18-135mm and advanced point and shoot cameras should cover focal lengths of 12-85mm for photographing a wide variety of subjects at Yellowstone National Park.



The Old Faithful geyser is the busiest spot in the park and is likely the single most photographed subject. The Artist Point scenic view of The Grand Canon of Yellowstone is the most photographed landscape scene. Of all the thermal features in Yellowstone, the Grand Prismatic is the most photographed subject.

Regarded as the most well-known American landscape photographer of the 20th Century,  Ansel Adams  photographed 13 national parks and monuments for the National Park Service. That included when Adams first created photographs in the iconic Yellowstone National Park in June of 1942. He returned twice to take additional photos in Yellowstone later in his life.

Adam's black and white photography of Yellowstone and Yosemite  inspired me, The Traveling Photographer, to pursue photography, first as a childhood hobby, and then as a full-time  profession as an adult.
William Henry Jackson is commonly known as the first person to photograph Yellowstone National Park. Jackson's Yellowstone photos had a big influence in persuading  the United States Congress to make Yellowstone the first national park in America.

Shoot all of your photos of Yellowstone in your camera's RAW mode as well as the highest quality of jpg setting possible mode. That gives you the best leeway to adjust your exposure, and color tones to get the best quality photos under the various lighting situations you'll encounter. Set your camera to an f/8 aperture and 1/125 second for hand held photos and let your camera choose the best ISO setting by using Auto-ISO.

---
Yellowstone is a photographer's paradise. It's one of the largest volcanoes on earth with over 300 active geysers and thousands of hydrothermal features. With several mountain ranges, the headwaters of 3 western river systems, and abundant wildlife, with a little luck you can come home with some amazing Yellowstone photos.
The Challenges of Photographing Yellowstone
Despite the amazing scenes you'll see and want to photograph, there are some challenges to getting great photos of Yellowstone that you should know about.

Access
Yellowstone is a huge park, covering  3,472 square miles with just a few roads available to drive on. The terrain includes rivers, mountains, and forests that you must navigate in order to get unique vantage points for shooting photos. Hiking the trails has a unique set of challenges and dangers as well.

Weather
The weather in Yellowstone can change in an instant and can be quite harsh. Sometimes it's those changing weather conditions that give you the most dramatic landscape photos. With outdoor photography, you're at the whim of Mother Nature. Not only must you protect yourself, but you need to be able to protect your camera gear from the elements as well.

Crowds
Yellowstone is a National Park. That means it's a very popular destination for  thousands of visitors. Yellowstone has averaged around 4,000,000 visitors each year over the last 4 years.  That makes the park very crowded especially during the peak season.
Photography  can be challenging because you  are limited with finding a good angle to shoot and avoid having people  in your way. Try visiting early on or later in the season when the crowds at Yellowstone are reduced.

Wildlife
The diverse wildlife species found in Yellowstone have different behavior patterns and can be unpredictable. It can be extremely dangerous to get too close to wildlife in order to take photos.  Wildlife don't follow the same paths and roads that people do and they have certain times when they're most active and can be seen.

Choose your camera and lens carefully, pay attention to lighting and composition, and shoot for variety.  If you're heading to Yellowstone, you should also add Mt. Rushmore and the Badlands in South Dakota, and Zion National Park in Arizona to your list of locations to photograph.

Bruce Lovelace is the publisher of TravelingPhotographer.com. Bruce shot portraits full time for over 35 years. Now he shoots more travel photography.  Read more about him on the About Page. He also publishes how to articles and camera gear reviews at the  Photography Tips and Canon Geek websites.
---
---
---