Travel Photos at Penn State
I took a photo excursion to my sister's alma mater and am sharing as "Travel Photos at Penn State." It was a cool damp day with nothing but an umbrella of solid white sky above.
I decided to focus on patterns and textures as a theme for my photography that day.  Sometimes when I go out and shoot, I just pick a single theme or subject and explore that.
The photo below of the Old Main building had little texture or patterns going on but I felt like photographing it anyway. I wanted to create an historical feel to the image.
Penn State Travel Photo - Old Main Building
I composed the photo to create a little tension between the lamp post and central tower and I liked the way the two flag poles created additional points of interest.
I gave it the historical feel by processing with a Topaz Texture Effects filter called "1950s Print"
In the  "Penn State - Brick and Slate" photo below I was intrigued by the diagonal lines separating the contrasting repetitions of brick and slate.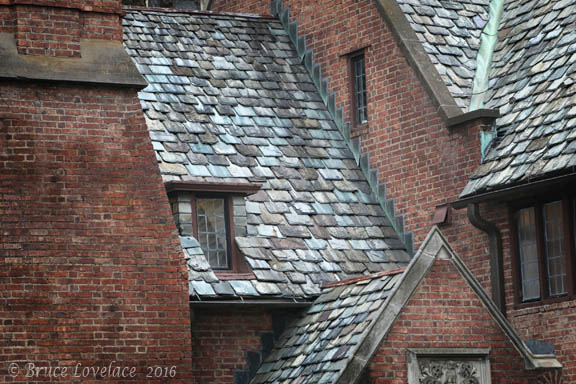 Penn State - Brick and Slate
The lighting was flat and there is not central point of interest, but it was still an interesting building to look at.
This was not a day to practice portrait photography techniques. I just wanted to shoot photos for the fun of it. Interior architectural elements often present opportunities to go abstract and this ceiling in the student center didn't disappoint.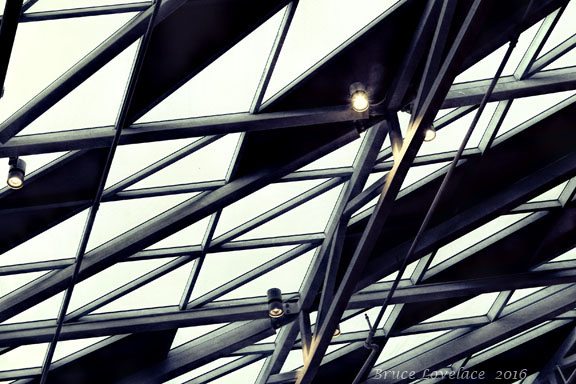 Penn State Campus -Diagonals and Rectangles - Ceiling Pattern
It was a relaxing day of just shooting some images and I as a bonus got to see some old friend during the trip.
Bruce Lovelace
The Traveling Photographer
Leave Penn State Travel Photos - Return to Traveling Photographer HOME
---