Ireland Travel Photos
You're researching Ireland travel photos. Ireland has a treasure trove of photographic opportunities. It's a small green gem of a country with friendly people, lush green valleys, a rugged picturesque coastline, and a rich history. 
There are 3 things to address when you want to know how to take the best photographs when visiting Ireland. Stop at the best locations. Carry along the right camera. Select the right lens.

Now, let's dive into the details of getting great photos, starting with the likely most important one, location, location, location.
1. Top Locations For Photography In Ireland
Experienced Ireland photographers all have their favorite places for the best photography opportunities when traveling to Ireland. What are the best locations for getting great photos when you visit? Read on and explore the picturesque spots I've photographed along with lists of locations from talented photographers.

There are over 40,000 basalt rock columns you can photograph at the giants Causeway in Northern Ireland. You have countless angles, focal length settings, varying perspective,s and different lighting situations to create some great photos of this unique story of formation that started about 60,000,000 years ago.
Here are 3 lists of photo opportunity locations in Ireland.

The Ring of Kerry
Valentia Island
Connemara
Gap of Dunloe
Dublin
Skelling Rocks
Trinity College Library
Slieve League Cliffs
Inis Mόr
Fanad Head Lighthouse
Dún Aonghasa
Sunbeam Shipwreck
 Giant's Causeway
Howth Cliffs
Cliffs of Moher
Killarney National Park
Aran Islands
Connemara
Ha'penny Bridge
Bray Head
Guinness Storehouse
Cobh
Slieve League Cliffs
Blarny Castle
Temple Bar Pub
Mount Errigal
Bray Head

Great Pollet Sea Arch
Whiterock, Killarney Bay
Kinard Beach
Lough Cummeenduff
Coumeenole Beach
Clogher Beach
Poulnabrone Domen
Dyerst O'Dea Monastery
Tyrone House
Jameson Distillery
O'Connell Bridge
The Spire of Dublin
Ferriters Cove

My Own Photo Spots
No doubt that Dark Hedges is the most photographed avenue in Ireland. See my photo of Dark Hedges below.
For me, I just had to get to the western coast of to photograph the Cliffs of Moher.  There are two examples included in this post.
The weather was perfect for my photos of Giants Causeway, the remarkable geological marvel of rock formations.

I had plenty of subjects to choose from for photographing the many Castles in Ireland.
Driving throughout the country gives you plenty of opportunities for fascinating Landscape Photography.
Visiting the capitol of Ireland gives you plenty of eye-candy to take pictures of, including the Dublin Castle

The Traveling Photographers Ireland Photo Gallery
See my collection of Ireland travel photos below. You click any photo you want to see it larger.
---
Dunguaire Castle Photo Gallery

---
Dunluce Castle Northern Ireland Photo Gallery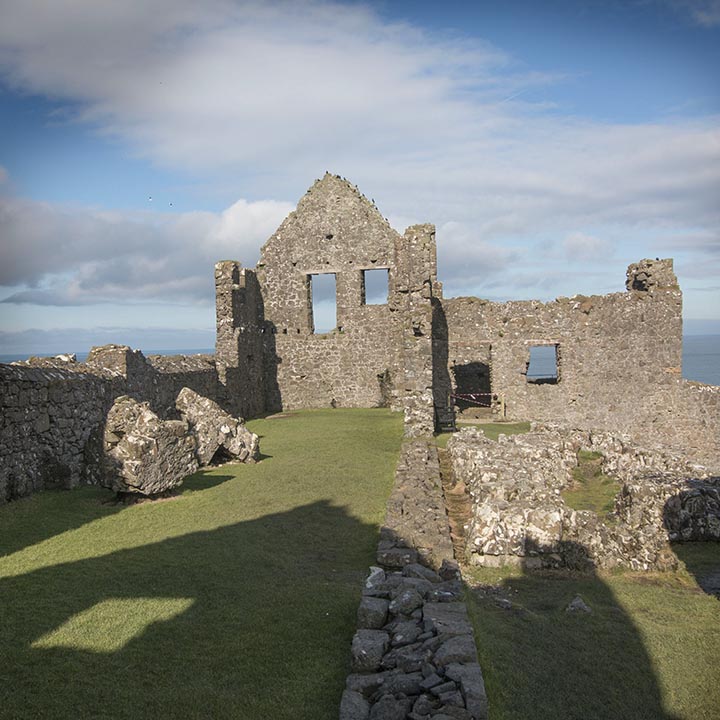 Dunluce Castle,
Northern Ireland


Dunluce Castle-Panorama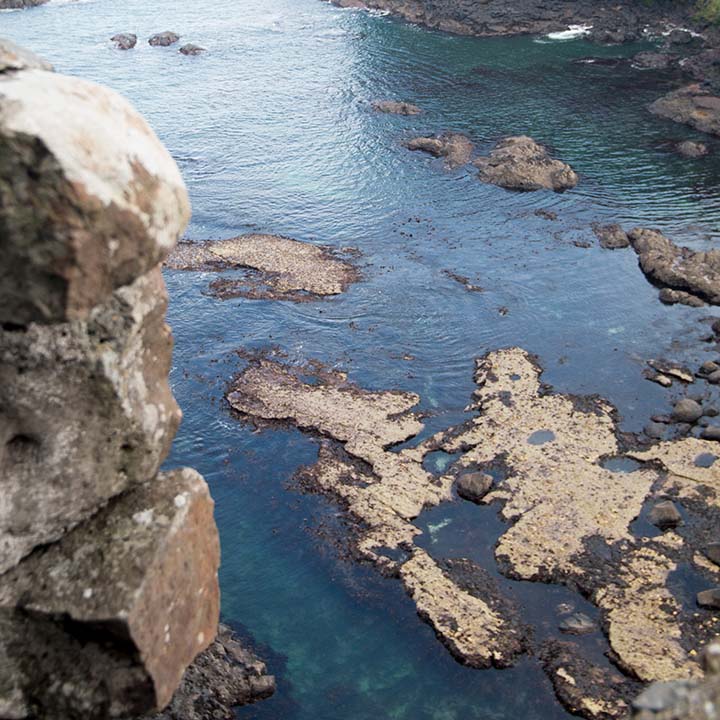 View of Atlantic Ocean
from Dunluce Castle


2. Best Camera For Photographing Ireland
You want to know what camera is best for taking to Ireland. There are 3 levels of photography that you can choose from as your goal to achieve with respect to how you want to use the photos you take while you're there.
Snapshots

Whether it's for sharing with friends and family in an email,  posting on Facebook or through other social media, you can use your smart phone or a standard point and shoot camera. Carrying your smart phone or a slip-into-your-pocket camera is the ultimate convenient way to have a camera with you at all times in Ireland.
The best camera is the one you have with you. The sensors are small, so they're easy to fit into a camera, but they're still sophisticated enough to get some great snapshots. If your needs are simple then it makes sense to keep your camera simple too.

Example cameras: Iphone  or PowerShot G7 X Mark II.
Prints

For printing and inclusion in your scrapbook or medium-sized prints to hang on your wall, you want a camera with a decent sized sensor. Advanced point and shoot cameras as well as "crop sensor" cameras have larger sensors and give you solid image quality and compact camera size.
Having a "real" camera in your hand that feels like a camera adds to the whole experience of creating travel photos. Having the ability to change lenses expands the type of photography you can do while you're

Examples:  Nikon Z50 or Canon G1X Mark II
Ultimate Quality

If you're interested in taking your Ireland photography to the highest level  you should get a full-frame DSLR or mirrorless camera. The best image quality (and image file size) comes from using a camera with a large sensor and the right amount of pixels.
Image quality really matters if you want to display your Ireland photos as large-sized wall art.

Example:  Canon EOS R or Sony Alpha 7R III.
3. Lenses For Photographing Ireland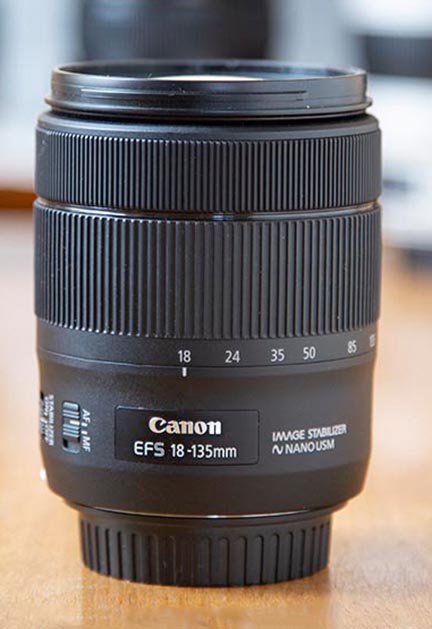 18-135mm lens
Wide angle to telephoto zoom


What camera lenses should you take to photograph Ireland?
If it's just one single lens you want to take to photograph Ireland it should be a zoom lens. That gives you an opportunity to change both your angle of view as well as your perspective on all the different scenes in the country and city that you're going to encounter. 

A wide-angle-to-telephoto focal length is ideal. That will give you the ability to photograph large structures like Irish cathedrals and castles, as well as interiors and wide vista scenes at the wide angle setting.
The telephoto lens setting will enable you to zoom in on long distance subjects, and to shoot close-up detail shots. On a crop sensor camera a lens like this Canon 18-135mm is perfect. For a full frame cameraHere's a deeper discussion on understanding Focal Length.
---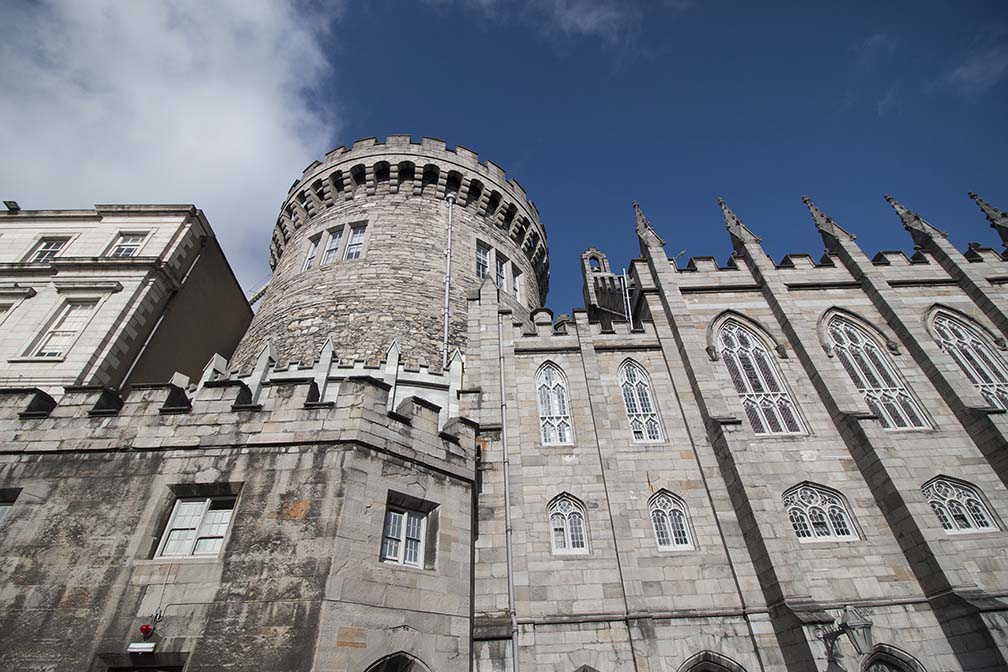 Dublin Castle, Ireland
Canon Camera 70D Camera, Canon EF-S 10-28mm lens


In the photo above, I used widest angle focal length so that I could to get this up-close, strong perspective of the Dublin Castle. The sun was striking the front of the castle at a good angle. The sky was a brilliant blue and had a few white clouds to add some interest.
Dublin Ireland Photos

Temple Bar, Dublin Ireland


Christ Church Cathedral, Dublin Ireland


Landscape Photos in Ireland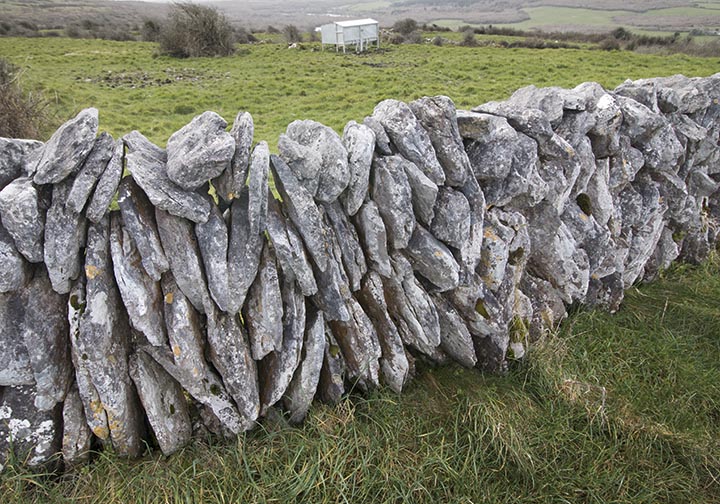 Rock wall, Burren Ireland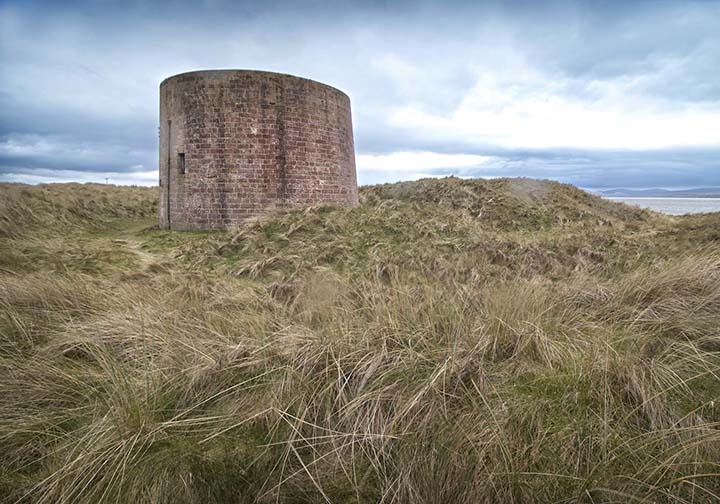 Macgilligan Mortella watchtower


If you're going to take all kinds of photos as you travel around the country you may have a few questions on what's allowed and what's not, in terms of photography and privacy.
Ireland Photography FAQ
As a general rule, you are allowed to take photographs of any object or person when you're in a public place in Ireland. Private property and people can be photographed as you want, but you must have permission  to be ON private property while taking photos.
According to  An Garda Síochána, it's an offense "for a person to record, distribute or publish an intimate image of another person without that other person's consent, where that recording, distribution or publication, as the case may be, seriously interferes with that other person's peace and privacy or causes alarm, distress, or harm to ."

Ireland is considered to be safe, but you still must be diligent to not leave your camera gear unattended. Like with other personal belongings, you shouldn't make it easy for anyone to steal. Theft can occur anywhere in the world, particularly more likely in the city areas, but Ireland is generally a safe country for photographers.
Firstly, the Data Protection Act requires that any cameras used must not capture images of people in areas which can be considered to be their private space. This includes their dwelling, house or its area of land around the house,  public toilets, or changing rooms.



I hope you enjoyed viewing my Ireland travel photos as much as I had a blast taking them. Ireland offers many, many great photo opportunities to enjoy.  If you've got the time, it's less than a 2 hour flight to travel from Ireland to a small country full of photo opportunities. Visit the Iceland Photo Gallery.

Bruce Lovelace is the publisher of TravelingPhotographer.com. Bruce shot portraits full time for over 35 years. Now he shoots more travel photography.  Read more about him on the About Page. He also publishes how to articles and camera gear reviews at the  Photography Tips and Canon Geek websites.
---
Return to ALL Travel Photography.
---
---