Large Photos of Zion Rock Layers

If you're lucky enough to have traveled to Zion National Park, you've already witnessed the Zion Rock Layers. If you haven't, then you're in for a treat. This unique gallery of large photos of Zion Rock Layers is yours to enjoy, to get inspired and even copy, if you wish.

Hopefully, if you're like me, you can allow yourself to "geek out" on the textures, patterns, colors, and formations that make Zion such a great destination for taking spectacular photos. As with most landscape photography, it's often all about timing it right to get the best lighting to enhance the appearance of your subject.
Is this the 3 Mary's rock formation at Zion?


We only had one full day to explore Zion during our fast-paced vacation. We did not take the time to seek out any of the specifically named rock formations, although two of those must-see photo spots are represented in this post.
We did several of the moderate hikes, including the one pictured below, of one of the side canyons near Zion National Park.
My family at Zion
Taking a rest in the shade under a rock wall


I'm not a geologist, but I'm fascinated by rocks.
Photo of me on a hike in Zion, taken by my oldest son


These photos of Zion were all taken with an old beginners-level DSLR camera in 2004. The Canon 10D was released more than 20 years ago in February of 2003 and had only a 6.3 MP sensor.
Despite using such outdated camera technology, only one moderate zoom lens, and being a beginner at landscape photography, I was pleased with a few of my photos from Zion.
"Unidentified Cliff"
Example of Zion rock textures


As mentioned I have always been fascinated with the rock layers that form over millions of years and then are revealed to us from the slow erosion over eons of time . Zion National Park is one of those iconic destinations that reveals the geological history and makes for great subjects for photographers like you and me.
I am especially intrigued when I see all of the possibilities of composing an interesting landscape photo that is visually interesting as well as thought-provoking.
In the scene above I picked a vantage point that gave me a composition that included  5 layers of color and texture that traveled across the frame horizontally. It starts with the larger green vegetation at the bottom of the view. Above that is the red rocks layer, then smaller-sized, distanced shrubs on the mountain side. The towering mountains rise above that and the final layer is a nice blue sky.
Although I don't remember seeing many rock climbers at Zion, the photo of the sheer rock face below reminds me of a similar view from the valley floor of El Capitan in Yosemite.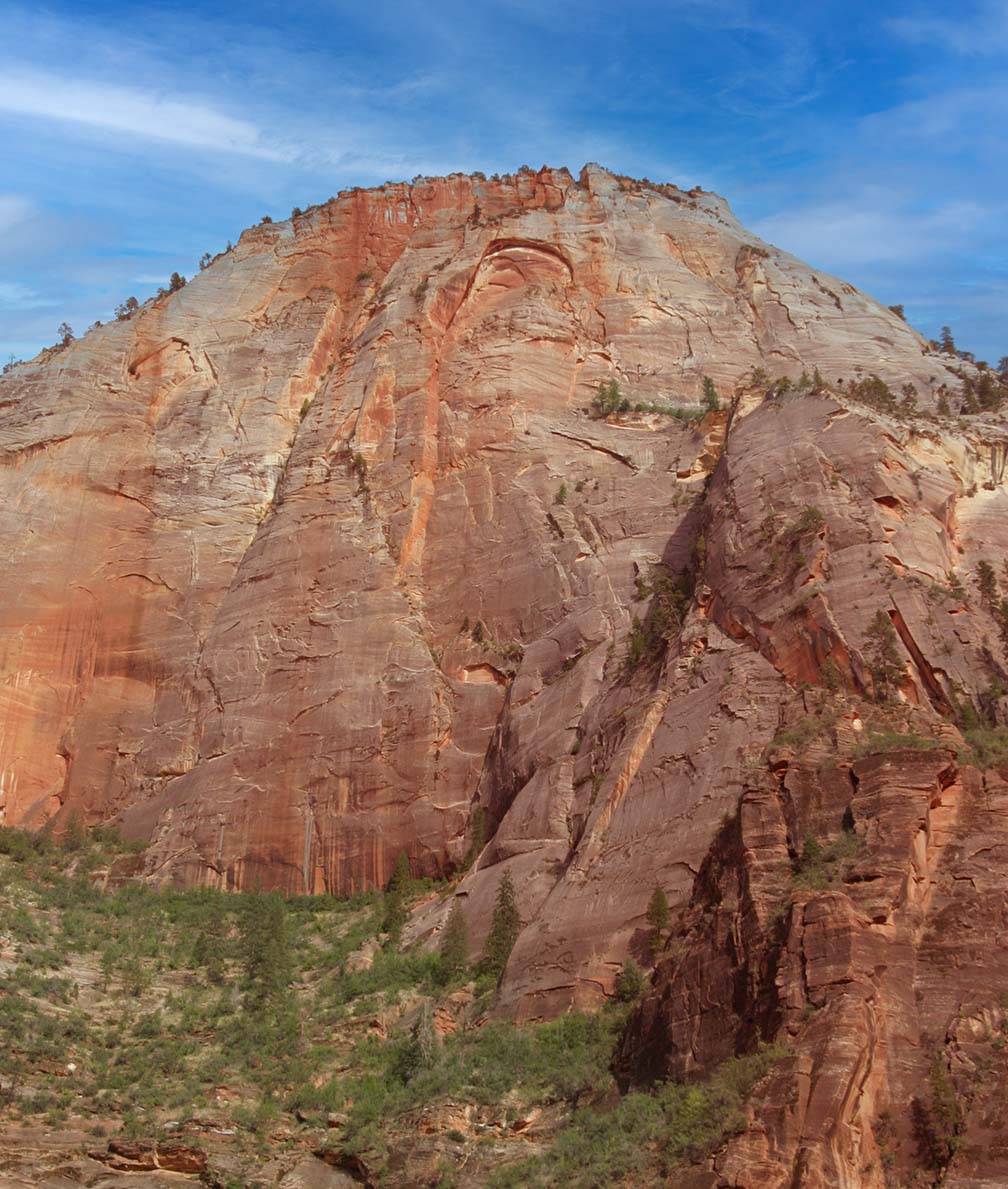 Rock climbers delight at Zion


---
The majority of Rock in Zion

Zion has 9 exposed rock formation layers, but it's mostly made up of Navajo Sandstone. According to the National Park Service, most of the rocks in Zion National Park are sedimentary rocks. They're made up of  bits and pieces of older rocks that have been weathered, eroded, and deposited in layers. It's those layers that make Zion a great subject to photograph.
Surprisingly, you can get a bunch of good views to photograph the rock layers in Zion from taking the shuttle bus along  Zion Canyon Scenic Drive. That includes the view I photographed below and named it, Moonrise over Zion," in honoring the great landscape photographer, Ansel Adams, and his famous "Moonrise Over Hernandez" photograph.  

Moonrise Over Zion


Bottom Zion rock layer Versus Grand Canyon Rock Layer
Speaking of interesting facts about layers, the bottom layer at Zion is the top layer at the Grand Canyon.  The south rim of the Grand Canyon is made of Kaibob limestone, which is the most abundant layer, sometimes up to 300 feet thick, in Sedona.
I included the photo below in my small gallery of Zion rock photos because I really liked the composition. The image quality wasn't what I wanted. Back then I only shot jpg photos and I could not fully correct the blown away highlights, particularly at the top of the mountain.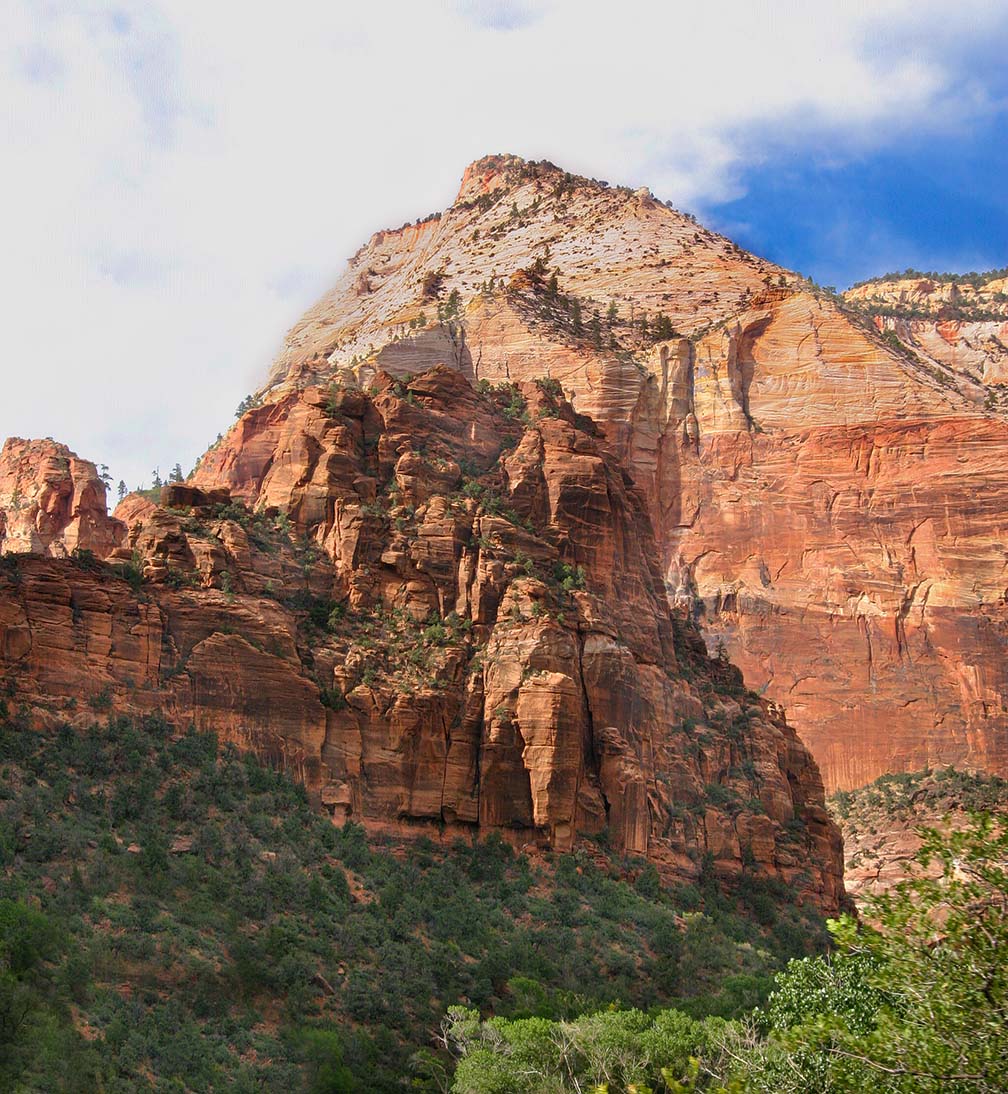 I overexposed this shot of Zion and tried to fix it in Photoshop.
That was before I started shooting EVERYTHING in RAW mode.


I used the rule of three to compose the "Red, White, And Blue" photo below. I included three main areas within the frame, making sure that the rock layer dominated the space and was emphasized as the main subject of the photograph.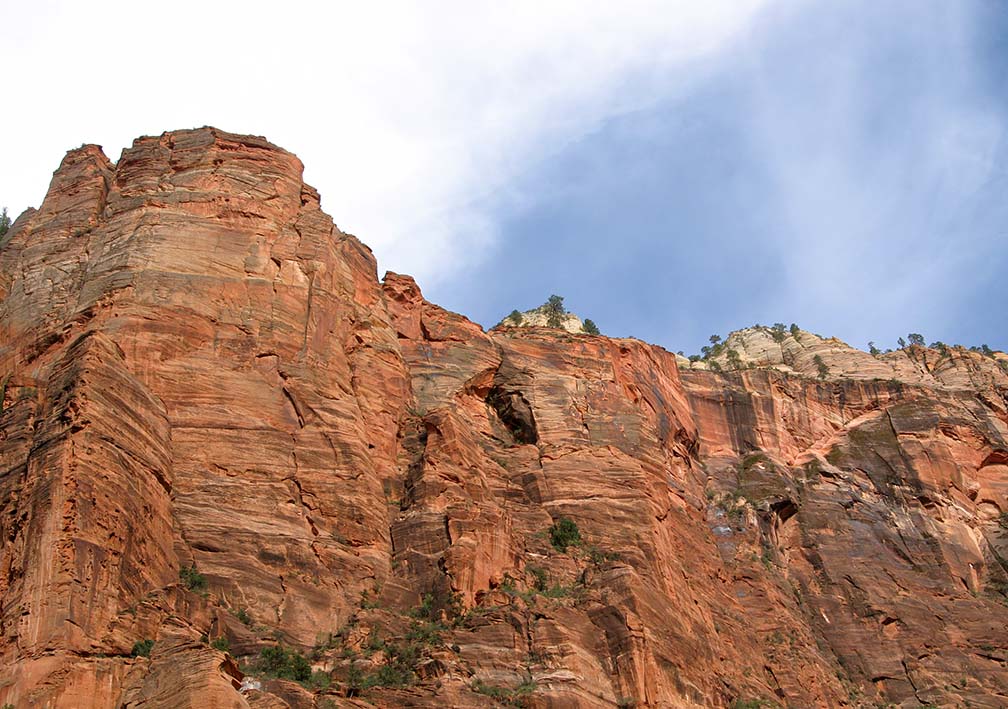 "Red, White, And Blue"
---
Iconic Photos of Zion Rock Layers
I didn't know it at the time, but the photo below is one of the most frequently photographed rock formations in Zion. I photographed The Watchman late in the day from a vantage point not too far from it's base.
The best (and most crowded) spot and time to photograph Watchman's view is from the bridge that crosses the Virgin River and at sunset. You can compose your photo with the river leading your eye into the photo and the Watchman on your left.
Another one of the iconic views of Zion to photograph is the sight from Zion Canyon Overlook. It's only about a one-mile moderate hike to get to this spot for a photograph.
You'll want to make sure you have a wide angle lens so that you can get a view of the entire Canyon, including objects in the foreground to create a sense of depth in your photos.
I hope you enjoyed your visit with my photos of Zion's rock layers. Are you interested in other travel photography destinations? See the related posts below.

Bruce Lovelace is the publisher of TravelingPhotographer.com. Bruce shot portraits full time for over 35 years. Now he shoots more travel photography.  Read more about him on the About Page. He also publishes how to articles and camera gear reviews at the  Photography Tips and Canon Geek websites.
The Traveling Photographer Location on Google My Business

See All Travel Photography Posts
---