Family Portrait Photography
The best place for family portrait photography is your own home or other favorite location. Whether it's "down the shore," in front of your fireplace, in the living room, or in the den, use the most comfortable and natural place to have your family portrait taken.  
Family Portrait Photography Samples
Here are a few of the family portraits taken by The Traveling Photographer. They've been taken either At Home or Outdoors.
If you're looking for a home portrait photographer you want to use someone who has experience in creating good lighting in a variety of situations.  A good understanding of family portrait poses is needed to make sure everyone looks their best.
Family Portraits At Home
Having family portraits at home is so much more personal than traveling to a portrait studio for a family portrait. The environment is not only more pleasant and relaxed, but it's also more convenient.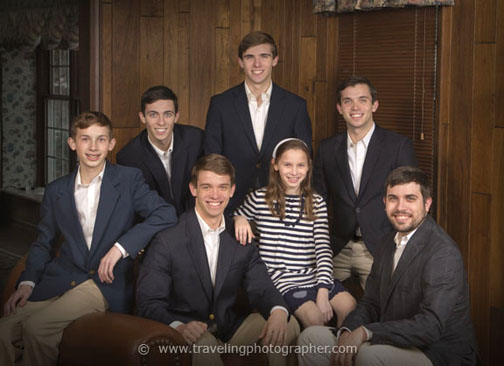 Family portrait at home in Malvern Pennsylvania
This family has a busy lifestyle with 7 kids in the family. This portrait was taken in the family den.
I chose this location  because of the simple background. We adjusted the furniture a little to accommodate the group  and their different heights. 
The next family portrait sample was taken during an in-home photography session of a large extended family.
In-home family portrait photography by The Traveling Photographer
This family portrait was taken in Mullica Hill, NJ.  We wanted a more casual look in this photograph so we posed the group near their fireplace. I used a little "digital photography magic" to enhance the flames in the fireplace.
This family portrait photography was done in the living room.  I used  a couch and a chair to pose this family of 5. I've know the mom since college and it was fun to see how much her boys have grown since our last visit.
It always has a nice personal feel to it when the home environment can be used as the location for a portrait session. Families don't spend their time in photography studios. They'd rather be home.
Family portrait taken in Sewell, New Jersey
When young children are photographed at home, we can use a background to lower the pose down where the children may be more comfortable.  Here we used a muslin background to create a studio photography look, even though the portrait was taken at home.
Outdoor Family Portraits
This outdoor portrait was taken in Mullica Hill, NJ. I first started photographing this family when the kids were quite young.

Outdoor family portrait taken
in Mullica Hill New Jersey by The Traveling Photographer
It's been a lot of fun to photograph them as they've grown up from being little kids to young adults. This client also had me do senior portrait photography too.

One of the favorite locations for family portraits is the New Jersey shore. This family was photographed in Ocean City, NJ.  We always shoot right around sunset when the lighting is best.
Sometimes the wind and the sun can be challenging with outdoor portrait photography.
It was a warm day in August when I photographed this family in Cherry Hill, NJ. It was part of a larger group that got together to have a portrait taken for the grandmother for a birthday gift.

Outdoor family portrait of 4 people in Cherry Hill New Jersey
 We found just the perfect spot in the shade with great natural lighting. The late afternoon sun was striking the back of the condominium and provided the perfect direction and intensity of light for this family.
Outdoor Family portrait - Wenonah New Jersey
Taken in the backyard of their Wenonah home, this family wanted a casual pose taken in the wooded environment near the swimming pool.
Bruce Lovelace, The Traveling Photographer is location family portrait photographer, based in Pitman NJ.  Bruce has a van to travel with and carry whatever photography equipment he needs, depending on the situation. 
Contact the Traveling Photographer now:  856-589-6400.
Return to Traveling Photographer HOME